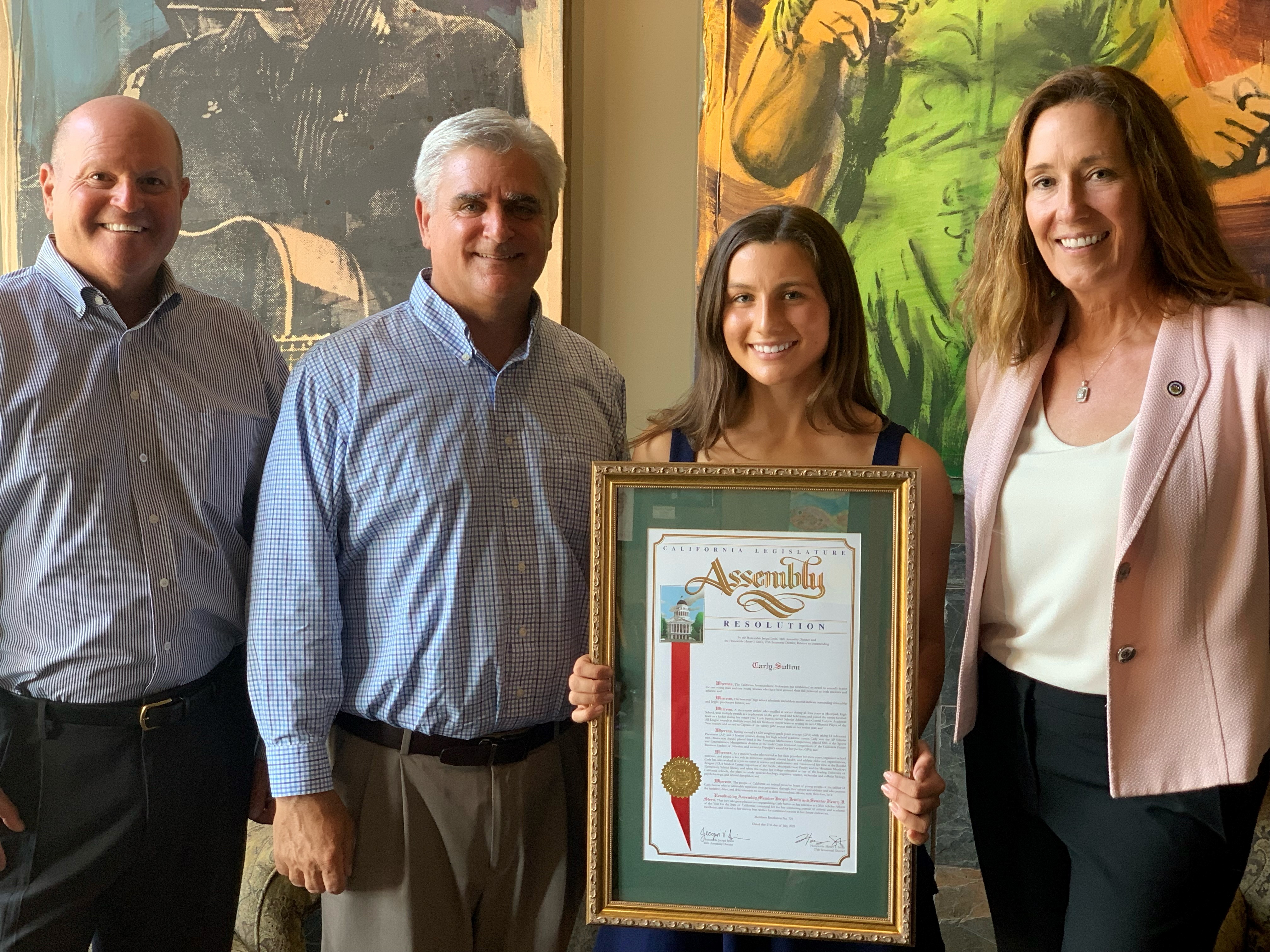 MOORPARK, CA – Earlier this week, Assemblymember Jacqui Irwin (D- Thousand Oaks) held a small celebration in the City of Moorpark to present a Joint Resolution of the California Legislature to Carly Sutton, one of two 2021 CIF Scholar-Athletes of the Year.
"An incredible number of talented students come out of the 44th District and go on to do amazing things, and Carly is clearly no exception, stated Assemblymember Irwin. "As a former student athlete, I understand the commitment it takes. Carly has gone above and beyond in both academic and athletic accomplishments and our community is so proud of her state-wide recognition." 
Sutton played soccer all four years at Moorpark High School and participated in track and football. She served as class president her sophomore, junior and senior years and was the founder of the Our Minds Matter Club at MHS, a national suicide prevention organization. Additionally, she is a member of the National Honor Society, California Scholarship Federation, Future Business Leaders of America, Medical Professionals of the Future Club, and Fellowship of Christian Athletes. Sutton also volunteered at the UCLA Ronald Reagan Medical Center and at the Aquarium of the Pacific, Long Beach.
"During my high school years, I have tried to excel academically, engage in extracurricular activities, and volunteer for worthy causes, while participating in my high school's sports teams at the highest level," states Sutton. "In doing so, I have displayed the Six Pillars of Character."
Since 1982, the scholarship award identifies student-athletes who excel in the classroom, athletics, and are strong contributors to their schools and communities. Carly was selected out of 800,000 high school athletes across the state, and received an award and a $5,000 scholarship.
"Our CIF scholar-athletes are the embodiment of education-based athletics," said CIF Executive Director Ron Nocetti. "Carly and Christopher represent more than 800,000 CIF student-athletes and it's an honor to recognize these deserving individuals for their commitment to their scholastic and athletic achievements, as well as their communities."
Among Carly's family and friends, Moorpark Mayor Janice Parvin also attended and presented Carly with a commendation from the City of Moorpark to honor her achievement.
Assemblymember Jacqui Irwin represents California's 44th Assembly District, which includes the communities of Camarillo, El Rio, Lake Sherwood, Moorpark, Oak Park, Oxnard, Port Hueneme, Thousand Oaks, and Westlake Village.
###