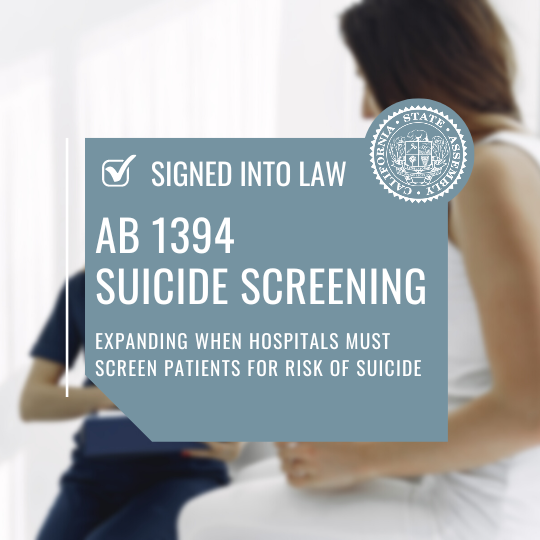 SACRAMENTO- Today Governor Gavin Newsom signed AB 1394 (Irwin) into law. The bill requires general acute care hospitals, which are health care facilities that provide 24-hour inpatient care, to adopt universal suicide screening policies for patients twelve years of age or older by January 1, 2025.
"I am grateful for Governor Newsom's signature on AB 1394, as it means thousands more California teens and adults will be asked the questions, and receive the support, that can save their lives when they are hurting the most," shared Assemblywoman Jacqui Irwin (D-Thousand Oaks).
Data has demonstrated that suicide remains a threat to Californians, with data from 2019-2020 indicating that youth aged 10-18 and individuals who identify as Asian/Pacific Islander experienced an increase in suicide rates.
The first step in reducing suicide rates is identification of risk. Health care settings present critical opportunities for suicide prevention and intervention. Researchers have found that 38% of people made a medical visit within a week before attempting suicide, with this percentage increasing to 64% within a month. AB 1394 will work to save lives by utilizing existing infrastructure to increase screening, providing intervention for individuals who may otherwise not seek care for their suicidal ideation or behavior.
The legislation was supported by many in the mental health community, including Didi Hirsch Mental Health Services, the American Foundation for Suicide Prevention, the California Hospital Association, the California Council of Community Behavioral Health Agencies, the California Alliance of Child and Family Services, and the National Center for Youth Law.
PRESS CONTACT:
Brandon Bjerke, Legislative Director
brandon.bjerke@asm.ca.gov